01 Jul

New Zealand property – unsold properties at a six year low.

Number of unsold properties falls to six-year low – This article is brought to you by the Auckland law firm conveyancing and property law team at Quay Law.

 July 1, 2013 – Source NZ Herald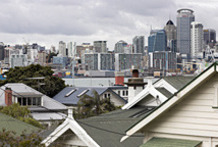 The number of unsold properties in New Zealand has fallen to a record six-year low, driven by lack of supply and a winter dip in new listings.
New figures from Realestate.co.nz show last month's property shortage was driven by low inventory in all major regions, with Canterbury, Waikato and Central Otago recording all-time lows.
The nationwide inventory of unsold properties – a measure of the number of weeks it would take to sell all unsold properties on the market – fell to 25 weeks last month, well below the long-term average of 38.1 weeks.
Auckland's inventory recovered slightly from the May's record low of 12 weeks, increasing to 12.3 weeks – though that was still 58 per cent below the long-term average of 29 weeks.
There were record lows in several major regions, including Canterbury at 14 weeks, Waikato at 29.6 weeks and Central Otago at 61 weeks. Wellington's inventory fell to 15.4 weeks, the lowest since November 2009.
Realestate.co.nz marketing manager Paul McKenzie said the record shortage was not overly surprising, given how fast the market was moving.
He said it was "a very heated market" and supply was the main culprit.
"There simply are not enough properties on the market at the moment."
Mr McKenzie said the traditional winter dip in new listings had also contributed to the record low.
Nationwide, the number of new listings in June was down 5 per cent on the same time last year. There were 9082 new listings last month, the lowest June figure in seven years.
Mr McKenzie said the number of listings, which followed strong new listings in the previous two months, was surprising.
"While we normally see listing numbers fall around this point of the year, the figure is still surprising, especially with the high level of demand from buyers we are currently seeing."
Asking prices eased slightly last month, with the nationwide average falling to $450,178 – a drop of 1 per cent from the record high seen in May.
In Auckland, asking prices fell 1.3 per cent to $623,471, while in Wellington and Canterbury the asking prices rose 1 per cent, to $451,622 and 410,723 respectively.
The figures were released in the July Property Report, which is compiled monthly by real estate industry website Realestate.co.nz.
Harcourts said that while news listings in Auckland were up a healthy 8.45 per cent on the same time last year, the number of properties available to buy had dropped by 21.82 per cent, showing demand was still vastly outstripping supply.
Harcourts had also noticed a decline in inventory, saying Auckland had enough stock to last four months compared with 5.1 months in June last year.
"Low supply and high prices will continue to fuel the Auckland market until large numbers of housing developments are completed to cope with out growing population," it said in its regional marketwatch.
– APNZ
---